07 5462 4255
Timber Product Brochures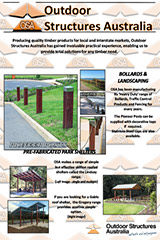 Outdoor Structures Australia Timber Brochure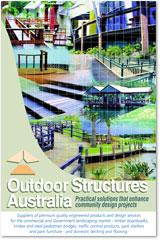 Community Design Projects Brochure
This six page brochure showcases the timber boardwalks, timber and steel pedestrian bridges, traffic control products, park shelters & park furniture as well as domestic decking and flooring - all available from Outdoor Structures Australia.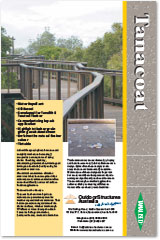 Tanacoat Product Brochure
This brochure describes the high flash point, solvent based, clear coating known as "Tanacoat" that enhances timber grain while providing protection against sunlight and moisture.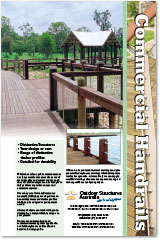 Commercial Handrails
Outdoor Structures Australia has developed its own handrail systems and timber profiles which can be adapted to your project needs.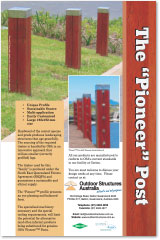 Pioneer™ Post
This two page brochure gives information on Outdoor Structures Australia's innovative timber products.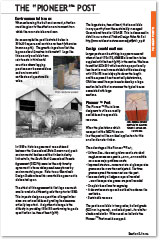 Pioneer™ Post background
This two page brochure explains the Environmental and Design considerations resulting in the innovation of the Pioneer;™ Post product range.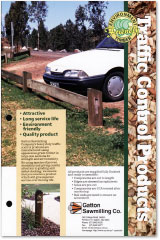 Traffic Control Products
This 2 page document gives information on traffic barriers, fencing, signage and bollards. This brochure should be added to any specifier's library folder on construction materials.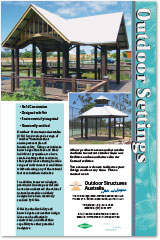 Outdoor Settings Brochure
Outdoor Structures Australia has developed a range of 'outdoor' furniture that encompasses style and functionality.
Flinders Street Furniture Brochure
With the market for local government moving to steel and aluminium frames (avoiding the cross-bar frequently associated with timber tables) Outdoor Structures Australia presents the simple, yet effective, Flinders table design providing an economic answer to the construction costs of the galvanised frame.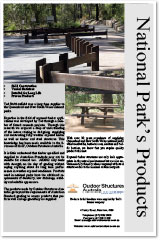 Qld National Parks Brochure ›
The products made by Outdoor Structures Australia go beyond the requirements of Australian Standard grading to ensure National Parks timber products that perform well and age gracefully are supplied.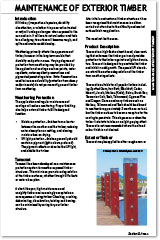 Maintenance Of Exterior Timber
All timber, (irrespective of species, durability classification, or whether it is preservative treated or not) will undergo changes when exposed to the sun and rain. It will lose its natural colour and fade to a silver/grey, its surface will become rough, and splits and cracks could develop.
Outdoor Structures Australia Bridges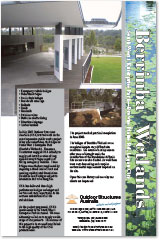 Berrinba Wetlands Brochure
This six page brochure presents the spectacular Berrinba Wetlands project including the 72 metre span cable-stayed bridge, 26 metre centre span designed for a 2.5 tonne emergency vehicle.
Please email us to obtain in hard-copy.
T44 Vehicle Bridges
Outdoor Structures Australia has developed a range of vehicle bridges suitable for use as residential access bridges, golf courses and general public use in subdivisions.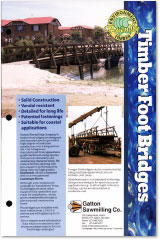 Timber Foot Bridges
This 2 page document gives information on our range of timber footbridges styles such as Single Girder, Laminated Girder and Arched. If you are considering a footbridge to compliment you landscaping design this will provide some great design ideas!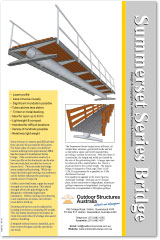 Summerset Series Footbridges (1MB PDF)
Summerset Series Bridge: A steel tube based pedestrian bridge ideal for difficult and remote access locations.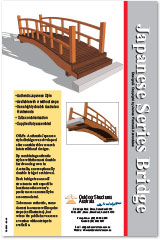 Japanese Series Timber Footbridges (230KB PDF)
By combining authentic Japanese styles with the most durable hardwoods grown in Australia, an exceptionally durable bridge is achieved.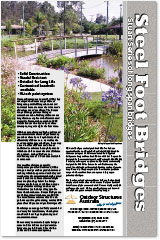 Steel Footbridges
Outdoor Structures Australia has developed a range of steel bridges to meet the variety of applications.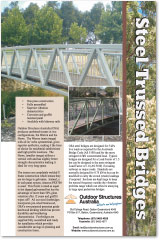 Steel Trussed Footbridges
Outdoor Structures Australia produces cambered steel trussed bridges in either the Warren or the Howe truss configuration for 5KPa live loads and the more stringent 4.5kN concentrated load.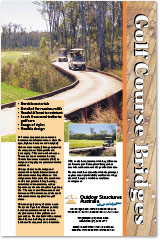 Golf Course Bridges
Outdoor Structures Australia specialises in the design and construction of prefabricated external timber structures for public use.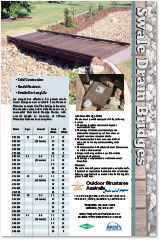 Swale Drain Bridges
Outdoor Structures Australia specialises in the design and construction of a range of Swale Drain bridges
Additional Timber Information
For timber additional information, also see: