07 5462 4255
Timber Bollards

Outdoor Structures Australia has hardwood bollards designed for visual framing, traffic & pedestrian control applications.
Urban (Above Ground) Bollards
Shore Timber Bollards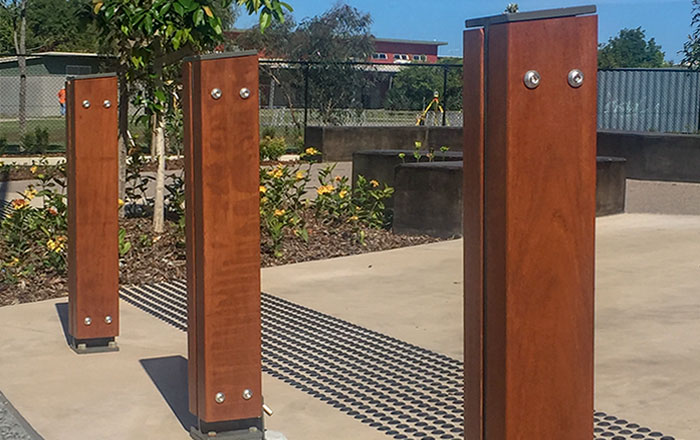 Shore Timber Bollards
'Shore' Bollards › (540KB PDF)
The Shore Bollard has the beautiful character of timber and the extra strength of a galvanized steel or optional 316 stainless steel backbone. This gives the Shore Bollard superior strength and durability yet still a simple direct to concrete installation.
The Shore Bollard is available in durability Class 1 Australian hardwood or Australian Cypress - with a removable mounting as an option.
Pre-oiled with Tanacoat Timber Oil in your 3 favourite colours (Jarrah, Merbau, or Spotted Gum), the Shore bollard will add the charm of timber and the security of steel to any urban landscape.
Park & Street (In ground) Bollards
Pioneer Posts™ & Bollards
The Pioneer Post™, measuring 192x192mm allows a designer to obtain a large section bollard but produced from the small diameter logs that are available now. Normal 200x200mm timber posts split and leave very unhappy clients but the Pioneer Post™ ensures a happy outcome for all parties.
The Pioneer Post™ is a heavy load bearing item and so allows the designer to have a unifying theme between bollards and structures. See the full details of Pioneer Posts™ ›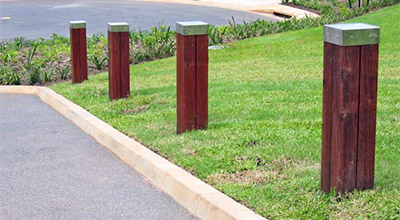 Pioneer Posts™ in a park setting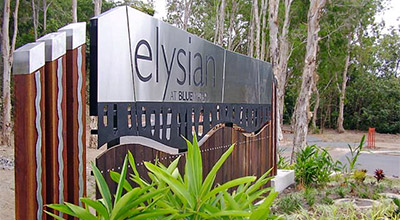 Pioneer Posts™ as part of a design feature
Learn More:
Australian Hardwood Bollards
Outdoor Structures Australia's (OSA) Class 1 (25 years+) Australian hardwood 'Heavy Duty' range of traffic bollards are complemented with matching traffic barriers and post and rail fencing. OSA is passionate about producing high quality weather exposed timber bollards suitable for the extreme Australian climate. Our market leading expertise in timber is carried through into our traffic barriers which are widely purchased by Queensland local and state government agencies. Product available pre-oiled. OSA Quality Assured custom designs on request.
Learn More:
Australian Hardwood Timber Bollards
Please contact OSA with any questions on our many timber bollard ranges.