07 5462 4255
Heavy Duty Range of Traffic Barrier, Bollards & Fencing
Outdoor Structures Australia has been manufacturing its Heavy duty range of traffic control products for many years yet the popularity of this product has been increasing, not decreasing.
Traffic Control Products
Timber Bollards
Bollards with a cross section of 190x90mm are available in heights 1.2m, 1.5m and 1.8m. See image below left.
Some clients ask us to customise the design and produce a design which is only available to them. We are happy to accommodate this. Bollards 1.2m long are normally available ex. stock.
Galvanised Bases for lift-out bollards are available. See image below right.
Specify: Outdoor Structures Australia Bollard 12, Outdoor Structures Australia bollard 15, Outdoor Structures Australia Bollard 18
Timber Traffic Barrier
Posts matching the bollards are fabricated with a 195x45 hole straight through the post to receive the rail.
The rail is 190x44mm and the standard length is 3.6 metres. They are machined with a rounded top to shed water.
Where a shorter rail is required a 2.7 metre length of the same profile can be substituted from our two rail fence system. A neater finish can be achieved by using blanking ends at the end of a run.
Free standing sets are also available. The rail is normally 3.6m and the protrusion should not extend more than 450mm.
Specify: Outdoor Structures Australia post12, Outdoor Structures Australia rail continuous36, Outdoor Structures Australia rail freestanding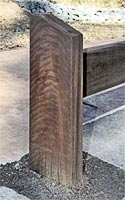 Custom Bollards & Timber Posts
Outdoor Structures Australia can supply a number of custom designed bollards & posts for specific situations. This image illustrates a blanking end post.
These drawings provide numerous example configurations.
Custom Bollard design: 45 degrees(140KB PDF)
Custom Bollard design: 90 degrees (160KB PDF)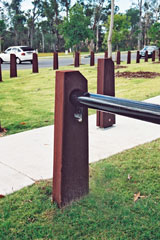 Outdoor Structures Australia Removable Rail
A removable rail 4.2m long is available.
The rail is galvanised and black powder coated. Matching posts are supplied with the hole already formed. Two posts are available, one with a simple hole and the other with the top cut out. This allows the rail to be withdrawn when there is an obstacle close by.
Specify: 1 only Outdoor Structures Australia sliprail42, 2 only Outdoor Structures Australia sliprail post standard or
1 only Outdoor Structures Australia sliprail post standard and one Outdoor Structures Australia sliprail post liftout.
Above photos show standard timber product coated with CN Oil.
Heavy Duty Timber Fencing
Heavy Duty Timber Signage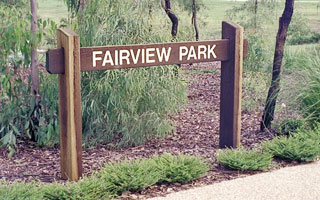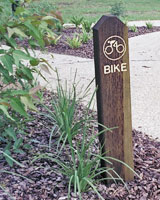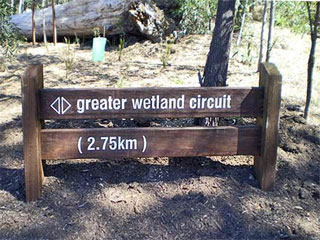 Above photos by Denis Clark Photography.
The Heavy Duty Range is best suited to timber signage. Outdoor Structures Australia has the capacity to handle timber to the size of 2400mm by 1200mm on the carving bed for routing and painting of detail.
Complimentary timber signage is available in the Heavy Duty range. The normal rail length is 2.1 metres and post height is 1.8 metres.
Engraving is to the customer's requirements.
Timber Installation guides
Refer to our Bollard Guide for general details.
Installation of Timber Bollards (120KB Adobe PDF)
Standard Bollards (80KB Adobe PDF)
2-3 Rail Heavy Duty Fencing (140KB Adobe PDF)
Stand alone Traffic Set (110KB Adobe PDF)
Continuous Traffic Control (132KB Adobe PDF)
Slip Rail Installation Dimensions (192KB Adobe PDF)
See also Hardwood Posts in Concrete (230KB PDF)
See also CN Oil Recommended as the first coating for commercial timber.
Beware of low grade and CCA treated timber bollards!
Beware Of Timber Product Substitution