07 5462 4255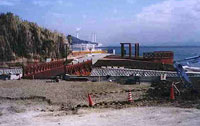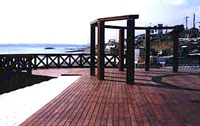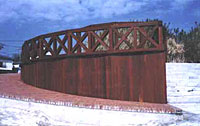 Kitashimoura is an old fishing port near Yokohama in Japan. The project was intended both as a beautification project for the foreshore and to provide an area for rest and relaxation. The project was built over two stages and "Panekyo" (Japan Housing and Components Manufacturer's Co-op). P.J Deck was chosen for both stages as well as a range of specially fabricated items. Outdoor Structures Australia deckwood is sold exclusively in Japan by Panekyo under the tradename P.J Deck.
Outdoor Structures Australia's spotted gum was chosen because of its high durability and quality. It is our opinion that this project represents excellence in design and workmanship which compliments the high quality of our western Queensland spotted gum.
Japanese enquiries should be directed to Panekyo's Tokyo office Phone No. 03 (3945) 0711.
Client: Kitashimoura
Architect:
Supplier: Panekyo, Tokyo
Gallery Index | Dalby Bell Tower | Tinchi Tamba Wetlands | Les Atkinson Park Boardwalk