07 5462 4255
Park Shelters › Lindsay Range

Material Supply Only. Post in-ground only.
The simple lean-to arrangement of the Lindsay makes this the most economical of the 'Explorer series' park shelters. Using a large 190x45mm rafter allows basically an extra metre overhang over the Gregory (gable) or Hume (hip) models.
The standard Lindsay Park Shelter sizes are 5m × 6m, 6m × 6m, and 10m × 6m.
Posts are our Pioneer™ Post › The design life of the Pioneer™ Post embedded directly in the ground in SE Queensland is 35 years. This is probably longer than steel.
Refer to the designer tools section for Autocad dynamic blocks of these shelters: Design tools ›
For more information Lindsay Shelter Range brochure ›
Lindsay series modified to make a performance area
The Lindsay series shelters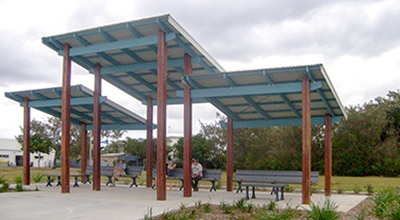 Triple Lindsay shelter

Custom design showing three modified Lindsay shelters in an All-Abilities Play Space. Project gallery › Plan drawing › Brochure ›