07 5462 4255
Park Furniture › Timber Seats

Material Supply Only
Heavy Duty Seat (Timber Frame)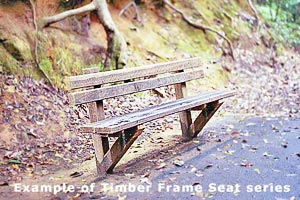 The seat and back for the timber seat are in the same position as with the steel frame. The seat is normally sold with a sanded rough sawn face slats.
Unlike the steel frame, this seat cannot be supplied as a bolt down version, the post must go in the ground in no fines concrete.
Specify: HD20T (2.0m), HD25T (2.5m), HD30T (3.0m) Different lengths can be accommodated.
Also see Design Tools including Images, Drawings & Autocad blocks for Heavy Duty Seat (Timber Frame) seats
See also Park & BBQ Tables
Return to start of Timber Park Furniture