07 5462 4255
National Parks & Wildlife Services
Sales of these ranges are restricted to the relevant State Authorities.
Outdoor Structures Australia manufacture a three other ranges of Barbecue Tables & Platforms. They are the Lawson Range (formerly Kings Beach) for where aesthetics are paramount, our very functional, Blaxland range and the Wentworth Range of platforms.
Queensland National Parks & Wildlife Service Standard Design
The Queensland National Parks tables are sold in three forms:
Timber and hardware kit with laminated plans, cutting and assembly instructions and two special tools are supplied for models D1 and TAB 1.1 [formerly Model D2]
Precut timber and hardware with laminated plans, instructions and two special tools
Fully assembled
Slight modifications are made to the Department's design by use of vandal resistant screws in the legs (no protruding bolts) and stainless steel screws in the seat and table top and a higher grade of timber than that specified is used.
See our brochure Qld National Parks brochure › (3.2MB PDF)
NSW Parks and Wildlife
The NSW Parks and Wildlife Table is made under license to that Department. Sales are restricted to the NSW and Queensland Parks and Wildlife services.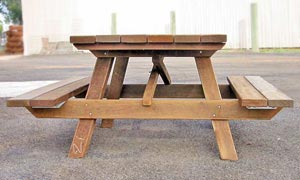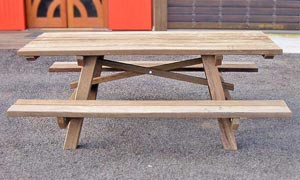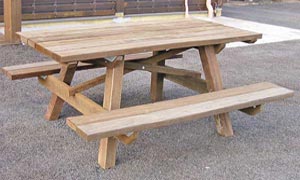 The NSW Parks and Wildlife Table measures:
Assembled Dimensions: 1705mm wide, 2100mm long, 807mm high
Shipping Dimensions: 925mm wide, 2100mm long, 400mm high (2 pallet spaces)
Weight: 270kg, heaviest component in kit (table top assy) 108kg