07 5462 4255

LifePlus® Hardwood Timber Decking is a new and improved timber decking product for domestic and light-commercial applications. LifePlus® delivers longer life plus improved performance, particularly in weather exposed conditions.
LifePlus® timber decking features:
A unique and improved hardwood decking profile, incorporating…
A natural lower slip exposed timber face, which reduces the likelihood of slipping on a wet deck;
Tapered sides, which reduces debris retention and improves ventilation between the decking and joist;
A warp-reducing groove and ripple on the underside, which reduces distortion and improves ventilation between the decking and joist.
Selected Australian Hardwoods
LifePlus® is manufactured from selected Australian hardwoods recognised as delivering superior performance in fully weather exposed conditions.
Exposed face
LifePlus® is manufactured to a high standard on the exposed face for improved timber weathering performance.
Timber preservative
Outdoor Structures Australia deckwood is treated with Tanalith E a new generation timber preservative which does not include CCA - in other words - treatment is with a non-chrome & non-arsenic preservative.
How to avoid dissatisfaction
Problems and associated dissatisfaction with a timber deck can originate in a number of areas unrelated to the quality of the decking timber. Issues arise in timber decks from: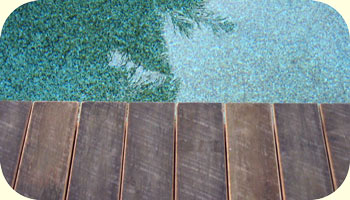 design and/or detailing,
choice of structural timber,
choice of other materials,
construction of the subframe,
installation of the decking (a major source of problems),
finish chosen or finishing techniques, and
maintenance of the decking.
To achieve satisfaction and the expected lifestyle benefits from your decking project requires quality in all aspects of project planning and delivery.
The LifePlus® Decking System has been developed to ensure this quality. The LifePlus® Decking System considers each of the important elements required to build a timber deck. The decking system specifies or gives advice as to suitable quality and good practices and integrates these elements into a project solution which performs well over a long life.
Combining good practice…
The LifePlus® Decking System combines good timber practices in: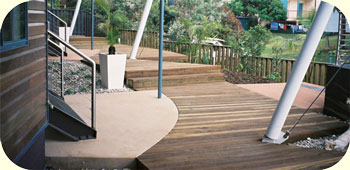 design and detailing,
use of LifePlus® Decking,
use of other quality, and suitable, materials for the subframe, fixings and finishes,
foundation and subframe construction, and…
decking installation, finishing and maintenance.
The benefits of this total, integrated approach become more apparent in the medium to long-term as other decking projects without this approach may suffer from poor performance, premature deterioration and reduced enjoyment by its users.
The quality practices which comprise the LifePlus® Decking System are explained in the LifePlus® Decking Guide and the LifePlus® Decking - Essential Information and Recommendations.
For further information on LifePlus® Decking and availability please contact OSA via: sales@outdoorstructures.com.au or 07 5462 4255. For additional technical information, please refer to the LifePlus Decking web site ›