07 5462 4255
Bridges › Sawn Timber Demountable Bridges

Material Supply Only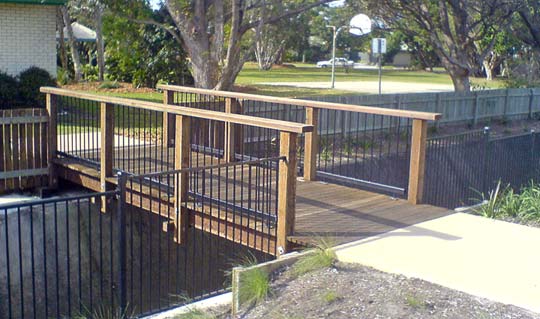 Our demountable range of bridges based on sawn timber was designed for the needs of National Parks.
Bridges built on logs are unsuitable for this application as the logs can weigh in the vicinity of one tonne each and need good crane access.
Demountable bridges are suitable for spans up to 5 metres (6 metres with the Barup truss option) sited on remote bush tracks where every item must be carried to the site.
The heaviest component on the longest bridge weighs 120kg.
The kit, manufactured from selected hardwoods is supplied with:
All timber cut to length
Major bolt holes pre-drilled
Decking pre-drilled
Timber treated after pre-working
All hardware
Foundation reinforcing, boxing and pegs
Sacrificial back wall timbers
Assembly instructions
See examples of our bridges from our Bridge Project Galleries ›